For students, writers, and other content writers and publishing houses, there is an extreme need to check for errors and other spellings in the content. But identifying each and every error on our own is a bit difficult, so the help of a few tools is important. Lets check out LanguageTool review.
Certain tools help you identify errors and spelling problems in other languages, such as Chinese, Spanish, Polish, Dutch, Italian, Portuguese, Catalan, and English. If you want a spell check and grammar tool, then there is no better than LanguageTool.
Understanding LanguageTool
One of the best spelling check and grammar software applications is LanguageTool. The software is very useful among students, writers, authors, publishing houses, and other freelance content creators.
This language tool is used primarily by content creators for software like MS Word, Google Chrome, Google Docs, Firefox, and OpenOffice. This is used as a plugin for writing software, such as it is also able to distinguish between US and British English. 
The app not only checks the spelling and grammar but also checks for the writing style and check for all the repeated words and sentences. The software not only detects these errors but also corrects them.
LanguageTool: Pros & Cons
With any software, you should know the pros and cons of the app before you use it. So here are the pros and cons of LanguageTool.
| | |
| --- | --- |
| Pros | Cons |
| Can work with over 25 different languages. | Limited features for both paid & free versions. |
| For the free version, no signup sheet is required. | There is no translator. |
| The premium version is quite affordable. | There is no plagiarism checker or report of functions.  |
| The UI is nice and quite easy to use. | |
| They give synonym suggestions. | |
| Great customer service.  | |
Best Features Of LanguageTool
There are a lot of great features that the software has, and to know them too, keep on scrolling down below.
1. Picky Mode & Synonym
A great feature of the software is "Picky Mode." Once you turn this on, the software will tell you to narrow down the tone and style and correct your mistakes.
And if you have any problems with finding the right words, then turn on the "Synonym" button to check for other similar words. This feature is available in both paid and free versions of the application.
2. Personal Dictionary
With this feature, you can add certain words to your personal dictionary if they are not already in the dictionary. If you are familiar with the software of ProWritingAid, then you will probably be able to recognize this feature. 
3. Mother Tongue
If you are writing something in your native language, then click on the button "Mother Tongue" to let the software know. This way, the software will know not to flag any mistakes in your text.  
4. Language Options
Like most other language software, LanguageTool is available in many different languages, such as the UK, US, and South African English, along with Italian, Dutch, Spanish, Chinese and Portuguese are also available. 
5. LanguageTool Integration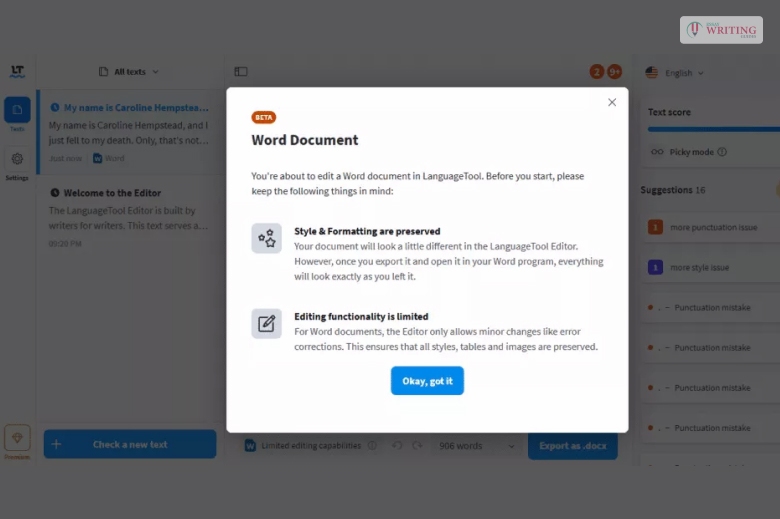 The free version of this app perfectly integrates with other browsers like Opera, Chrome, Firefox, Safari, and even Microsoft Edge.
The software is also useful for grammar check and spell check for social media apps as well, such as Facebook, LinkedIn, Twitter, and others.
| | |
| --- | --- |
| API | Contextual Guidance |
| Multi-Language | Document Review |
| Style Check | Grammar Check |
| Text Editing | Problem Area Alerts |
| Text Review | Real-Time Updates |
The Pricing Of LanguageTool
The Prices of the paid and free versions of the LanguageTool are outlined in detail below.
| | | |
| --- | --- | --- |
| Value For Money Rating | Pricing Options | Price Starts From |
| ⭐ 4.0 / 5 | Free Plan | $ 5.01  |
| | Free Trial | Per month |
| | Subscription | Per Feature |
Reviews Of LanguageTool
Whenever you are using software, you should definitely check the reviews of that certain app. So like that, it is important to know the reviews of the software LanguageTool.
Here are a few reviews of the software grammar tool LanguageTool.
LanguageTool Alternatives
Even if you are interested in using the languageTool application software, you should compare it with other similar apps as well, like the apps LanguageTool vs Grammarly. Here are a few alternative software that you should know about. 
| | |
| --- | --- |
| Rating | ⭐4.2 / 5  |
| Pricing | – |
| Features | Text Editing, Text Review, and Spell Check. |
| | |
| --- | --- |
| Rating | ⭐ 4.9 / 5 |
| Pricing | Starting from  $0  |
| Features | Style check, Problem Area Alerts, Spell Check, Text Editing, Text Review. |
| | |
| --- | --- |
| Rating | ⭐ 4.6 / 5 |
| Pricing | $9.99 / month |
| Features | Document classification. Full-Text Search, Collaboration Tools, Spell Check. |
| | |
| --- | --- |
| Rating | ⭐4.4 / 5  |
| Pricing | $9.99 / month |
| Features | Style check, Dictionary / Thesaurus, Grammar Check, Text Editing, Spell Check. |
| | |
| --- | --- |
| Rating | ⭐4.6 / 5 |
| Pricing | $14.99 / month |
| Features | Punctuation check, Dictionary / Thesaurus, Spell check, Text Editing, Spell Check.  |
Wrapping Up!
If you are writing in different native languages and your mother tongue, then you should know that LanguageTool is one of the best grammar check tools you can use for your writing. 
This app is good in both the paid and free versions of the software. Although it doesn't have as many features in the free version as ProWritingAid, the features are good. If you find this article helpful for your need, then let us know by commenting down below.
Read Also: