In the process of growing old, we are growing gray. It is as if no experience can uplift a beat-up soul rolling on the ground. Well, that is until you have tried the snoopy quotes.
Oh, can't remember Snoopy? He's our favorite animated beagle. The Classing Peanuts Comic Strips should ring a bell. See? You are there; you can lift yourself up. You just need a little push upwards.
In this article, I have listed some of the best quotes by Snoopy, our favorite animated dog. These uplifting snoopy quotes can deliver just the push you need right now. But, before I start with the quote, let me take you down memory lane and introduce your current self with Snoopy, as you remembered him.
About Little Snoopy, The Favorite Beagle
Snoopy comes from the comic strips by Charles M. Schulz. The comic strips ran originally for 50 years, with 17,897 strips published in total. The strip features a complete social circle of kids centering on our favorite Snoopy. 
Snoopy is more than just an ordinary dog. He excels in dogs and even humans through his passion for living life. He has hobbies that he loves to spend his time doing. For example, snoopy loves to read, collect art, write, and drink root beer. Snoopy has a very humorous nature, and he loves to share his words of wisdom with his friends and charlie brown.
He loves to read and write, collect art, and, of course, drink root beer. Snoopy's adventurous spirit equips him with wisdom and great humor that he loves to share with Charlie Brown and his friends. According to TV guide ranking, they were ranked as the 8th greatest comic character of all time.
However, with all of Snoopy's achievements aside, I really want to focus on what Snoopy has to say to lift your spirit up. Here are some uplifting snoopy quotes to help you start your day bright and cheerfully.
Uplifting Snoopy Quotes About Life 
These quotes should put a smile on your face.
"Never forget to smile." – Snoopy.
No matter how hard life becomes, you should always try to put on a smile. This is not because you have to; you have to smile; it is your first defense against all odds. I personally love to follow this quote all the time.
"Keep looking up…that's the secret of life." – Snoopy.
Snoopy teaches us to keep looking up and have an upwards direction in our lives. He asks you to keep a positive attitude in life and look up. I think you love these deep Snoopy quotes, are you not? Keep reading for more. 
Read more: I Look Forward To Hearing From You: 21 Ways Of Saying 'Look Forward To Hearing From You'
"Be yourself. No one can say you're doing it wrong." – Snoopy.
It might be wrong to others. But no one can see your destination because no one walks your path; you do. Snoopy always advices you to be yourself and believe in your own cause for being who you are. So be yourself, for yourself, and for snoopy.
"Everyone understands kindness." – Snoopy.
If you think someone will not understand you because of the difference you have with them, try with kindness. That is the language Snoopy teaches. Kindness is a universal language, and everyone understands it.
"Never stress on what you can't control and never worry about what isn't yours." – Snoopy.
You cannot always control everything – as a matter of fact, you should not try either. Keep your worries within the limit.
"The less you want, the more you love." – Snoopy.
If you want more love, you should start by wanting less in life – Snoopy said that.
"Each of us has his own calling." – Snoopy.
You have your own calling in life. Find it, and make it your purpose for growing. I think this is among the best uplifting snoopy quotes helping you find your purpose.
"I don't have time to worry about who doesn't like me. I'm too busy loving the people who love me." – Snoopy.
You can now put all the haters to silent mode with these uplifting snoopy quotes about loving your friends.
"I think I'm allergic to morning." – Snoopy.
You are late for work because you hate to wake up? Well, Snoopy can relate.
"I can't…I'm thinking about pizza." – Snoopy
Looking for reasons to say no to your senior? How about Pizza?
Read more: 25+ God Bless You Quotes For The Uninspired
"Has It Ever Occurred to You That You Might Be Wrong?" – Snoopy
There is no shame in admitting that you are wrong. You are only human.
"Rats…I Forgot What I Was Going To Say." – Snoopy
Ever had to deal with forgetting what you were going to say? Well, Snoopy is here to empathize.
"My mind reels with sarcastic replies." – Snoopy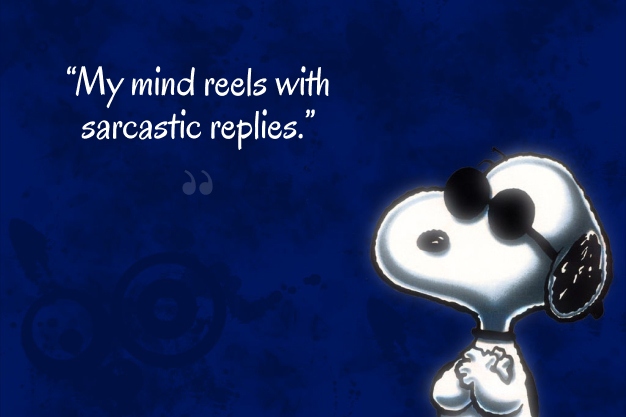 You are a snoopy fan. No wonder you are Sarcastic. These are surely the uplifting snoopy quotes you were looking for.
"A friend is someone who loves you in spite of your faults." – Snoopy.
Never leave a friend behind, especially those who take you for who you are.
"Friendship is doing nothing special and enjoying it." – Snoopy.
Looking for uplifting snoopy quotes about friendship? Well, snoopy has the best definition of friendship.
"Everytime you find a humor in a difficult situation, you win." – Snoopy.
You should learn to find humor in the least possible place and situation. Snoopy knows that it gets hard sometimes. But keep humoring yourself and others.
"Faith is holding on tight when the going gets windy." – Snoopy.
It is all about holding on to what you believe in.
"When life knocks you down, roll over and look at the stars." – Snoopy.
This is how motivational Snoopy can get at times. Look on the bright side. 
Read more: 20+ Good Night Blessings Messages And Quotes
"We love the simple things in life." – Snoopy.
Snoopy knows the source of happiness.
Let Snoopy Lift You Up
Snoopy would love it if it was you who left yourself up. These uplifting snoopy quotes might sound a bit cheesy. But look closer; it is the simple things in life that get us going and helps us grow. Snoopy always looks into the brighter side of life. So should you, and these quotes should help you achieve what you want to achieve.
Did you find these quotes helpful? Let me know in the comment.
Read Also: