Are you a writer? Do you need to check for grammatical mistakes in your writing before you submit it?
But can a grammar checker service software help you become a better writer?
I am also a writer like you, and let me introduce an amazing grammar checker software to you, ProWritingAid Review. 
I know what you are thinking, that we already have Grammarly, why do we even need another grammar checker service. But wait till I tell you how ProWritingAid Review is different from Grammarly.
What Is ProWritingAid?
ProWritingAid is technically a web-based grammar checking software. Here you can easily check manuscripts, edit, and even design your writings.
This is great for both fiction and non-fiction writers along with, bloggers, content writers, and also students. This helps you improve your grammar, reduces grammatical mistakes, and improves your writing style as well.
It will also help you analyze various writing styles which you can use and generates reports of your writings. Based on different metrics such as grammar, use of words, readability, cliches, length of sentence, pronouns, and others.
Through the ProWritingAid's Word Explorer feature you can know the right words to use and enhance your writing and language. Just by going through the already built-in dictionary.
Unlike Grammarly, ProWritingAid offers you a detailed explanation of any changes it is suggesting. Aids in increasing the knowledge about the language rules. This comes with an in-built toolset, through which you can actually see the sentence length and enhance it. ProWritingAid free trial policy is something you should try on first, before subscribing to the packages. 
ProWritingAid: What Does It Do?
This software is like two-in-one, it is both a grammar and spelling checker. It also improves the readability of your writing.
ProWritingAid can help you check for,
Errors in spelling & grammar.
Poor Readability.
Inconsistency in tenses.
Poor choice of words.
Sticky or Run-on Sentences.
Cliches.
Duplicate words.
Abstract words.
Overused words.
Generates reports- 22 for the free version, 25 for the paid one.
This spell checker works as a mentor or a guide for both beginners as well as experienced writers. Rarely do any other checker provides this much information to its users. 
A few other features of the prowritingaid app are:
API.
Assisted Content Creation.
Collaboration Tools.
Comments/Notes.
Content Library.
Content Management.
Guidance on context.
Branding customizing.
Category customization.
Customized reports and rules.
Dictionary.
Document review.
Natural Language Processing.
Office suite.
Rich Text Editor.
Third-party Integration.
Summary Check.
User Management.
Single Sign-On.
Text Editing.
Watch this video, to know how to become a smart writer, using ProWritingAid.
Is It Save From Plagiarism?
One of the biggest problems that writers like us go through is our original work is shown as plagiarized.
It has happened that through some software when you check for plagiarism they get stored and can be shown as plagiarised. 
But don't worry ProWritingAid is totally safe.
This software doesn't store or save any of your writings or texts, so your original work won't show as plagiarised. This is true for both versions, paid or free.
ProWritingAid Premium Plans:
| | | |
| --- | --- | --- |
| Monthly Subscription | Yearly Subscription | Lifetime |
| $20.00 | $79.00 | $399 |
| Per Month | $6.58 per month | One-time payment |
| | 67% saving | Includes all updates |
You don't have to pay monthly for ProWritingAid, unlike other spell check apps. Also unlike other grammar checkers, this is affordable as well.
If you are looking to buy a more premium version, then ProWritingAid can help you with t at as well.
| | | |
| --- | --- | --- |
| Monthly Subscription | Yearly Subscription | Lifetime |
| $24.00 | $89.00 | $499 |
| Per Month | $7.42 per month | One-time payment |
| | 69% saving | Includes all updates |
ProWritingAid: Is It Free?
Yes, ProWritingAid free, does have a free version but that is quite limited in its features.
It only has,
Summary report only on key issues
19 Writing Reports
It edits only 500 words at a time
It is only available as an online tool
ProWritingAid: Refund Policy
If you think that you are unsure about committing to ProWriting Aid for a month, then you don't have to worry about it.
They have a 14-day refund policy if you want it.
ProWritingAid: Pros & Cons
| | |
| --- | --- |
| Pros | Cons |
| Number Integration. | Takes time to learn the features . |
| User-friendly Interface. | Takes time to edit words 10,000+. |
| 25 types of writing analysis reports. | |
| Free Trial. | |
| 14 day refund policy. | |
ProWritingAid Vs. Grammarly:
| | |
| --- | --- |
| ProWritingAid | Grammarly |
| Offers the best grammar & spell checks, with a deep report on your writing. | Is a widely used writing tool that enhances your writing style, vocabulary, and syntax. |
| Doesn't have mobile support. | It is supported on Android, and iOS phones, both the paid and free versions. |
| It shows more than suggestions, though all are not recommended. | It Shows important suggestions. |
| Interface is not as clean as Grammarly. | Grammarly interface has a rather clean design. |
| Best for fiction writings. | Best for non-fiction writings. |
| Handles things like fragmented sentences. | Handles things like writing errors. |
| Has limited features on the free version. | Has a lot of features on the free version. |
Are There Any Alternatives?
If you are still deliberating whether to install ProWritingAid or not, no need to worry. There are a few alternatives that you can use as well.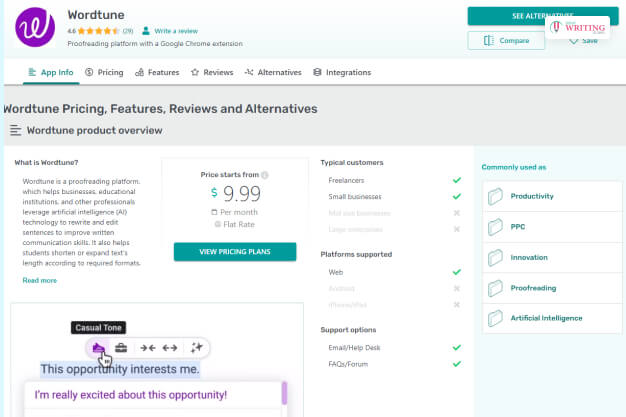 Frequently Asked Questions (FAQs):
Q1. Can ProWritingAid be used offline? 
No, you need to have an internet connection to use ProWritingAid. Without an internet connection, you cannot open the app. 

Q2. Is ProWritingAid safe to use?
Yes, ProWritingAid is safe to use. It doesn't store or save any of your work, so don't have to worry about plagiarism. 

Q3. Does ProWritingAid has a Chrome Extention? 
Yes, ProWritingAid supports Chrome Extension. You can install the app on Chrome and grammar check your work online. 

In Conclusion!
From the above analysis, you can see why ProWritingAid is one of the best grammar checkers out there in the market. If you are looking for something cost-effective and easy to use, this app is for you.
READ MORE...